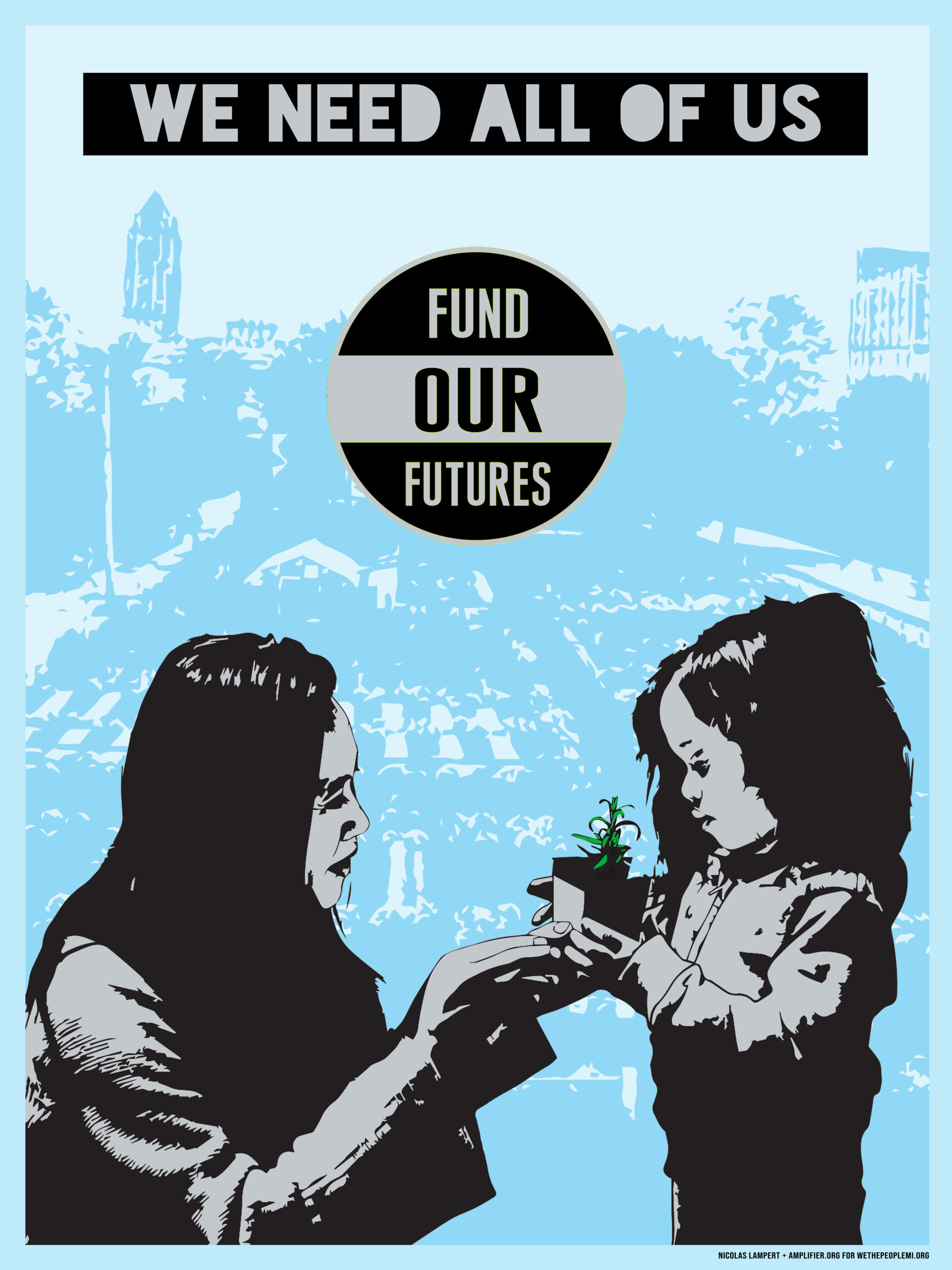 The 2020 presidential election is next week Tuesday. By this time next week the election will be over. We may or may not know who the president for the next four years will be. I sincerely hope it will be a peaceful election – not one filled with fear from either side, but a time that works to build understanding between two polarized sides. We can hold our political values, but when we use them to shame, blame, and taunt others that doesn't help anyone.
---
This week I want to say thank you to the educators out there. I work in education advocacy, I see how hard many of you are working. I also have kids in school and welcome teachers every school day into my home. I want to say thank you. With the election next week – ideas, hopes, and optimism come in many ways I don't want to focus on that mayhem but on something more personal for many of us. (By educators I mean anyone working in the education system — early learning, K-12, higher ed, education support staff, etc.)
While this isn't a technical blog post about racial equity and how to be less racist or more equitable, I am writing it because at the heart of our work is caring for each other, and extending ourselves to take care of others. As we head into November and a monumental election I want to pause and send my thanks to the educators who are continue to work hard, to work hard for educational justice, and continue to rewrite the definition of what it means to be a teacher and to push for change. Focusing on this will hopefully remind us that anti-racism work starts in our homes and schools, which right now are blended.
During "normal" times teaching is a profession that takes incredible dedication. As my friend Nisha, a first-grade teacher, said before starting school this year "it feels like my first year of teaching." Having worked on the periphery of the education field for years I see how every day educators fight systems not designed to uplift students and families of color. If you're reading this blog, I also know you're dedicated to racial justice, which right now requires new and different thinking. Thank you for sticking with all of the uncomfortable, hard, and draining work during COVID.
I also want to call in many of us have had renewed reckonings with race during the most recent Black Lives Matter movement. To our Black educators and colleagues thank you for showing many of us grace or having hard conversations with us as we stumble and grasp what it means to be believe and act in anti-Black solidarity.   
Teaching is about ideas, hopes, and optimism – otherwise you wouldn't go into teaching or the education field. The opposites — status quo, despair, and pessimism are for the privileged. Teaching in a way that sees a person's identity – including their full racial and cultural identity is hard. Right now, during remote learning it is even harder to "see" students at their fullest, to build genuine relationships, but I see so many of you trying and finding moments of joy and connection with students beyond boxes on screens.
Now that classes happen in my living room and within earshot of my own "office" at the kitchen table I get to eavesdrop on what my kids are learning. I love listening to the elementary school class "check ins" and morning greetings. Hearing the students raise their virtual hands to share what is important to them and now share pieces of their home life in culture in more intimate ways and to hear the teachers thank them for sharing. I also know for some POCs reading this, that isn't the same experience. For some the racism that happened in school buildings is now in their living rooms. I've heard from Black friends and colleagues who said their not having to be "at school" is refreshing since they no longer have to deal with racism from other students or teachers. For Black and Brown teachers some have shared for the first time they don't dread having to face microaggressions at work everyday. The learning and work and learning now sits with many of us non-Black people to change our ways.
Thank you to the teachers and educators who continue to push systems, work around the system, and advocate to keep students being safe and connected. I've seen educators who are delivering weekly food bags in conjunction with a local food bank to make sure their families, mostly new immigrants – many of whom are underemployed due to COVID, have food for the week. I heard one teacher ask a student if he needed school supplies dropped off and promised the student she would bring him learning materials on Friday, he beamed on the video call – I am glad I caught that glimpse of what wholeness in education can look like in this COVID moment. Another teacher friend recently text to ask how she could get several students new beds. This is not in her teacher contract, but she wanted to ensure her students home lives are as ok as it can be. Other teaches are continuing to advocate in large and small ways to reach their students who are farthest from educational justice. These gestures certainly tax teachers extra, but it also demonstrates the optimism and pride in their students and care for the families.
As non-educators I hope we can "see" these moments as integral to building a racial justice movement and support our educators. If you have a student in school and you know the teacher is working extra hard to bring racial justice lessons and teaching to the students please support them. Offer to purchase a book for their classroom, drop an email that says thank you, ask if they need specific help or resources you can offer. Check in them periodically in ways that are unobtrusive. Don't wait until teacher appreciation week to let them know you see how hard they are working.
I hope you'll also take a moment to thank someone who is working hard to change the education systems (or other places) to be less racist, who's daily work is often overlooked, who is stretching themselves and their job to take care of others during the pandemic. COVID and the latest Black Lives Matter movement has forced us to confront our lives and recognize we can change and this change is hard. The change deserves to be recognized. Thank you.
---
Thank you to our Patreon subscribers. Please note at this time I don't offer 'extras' or bonuses for Patreons. I blog after working a full-time job, volunteer and family commitments thus it is hard to find time to create more content. Whatever level you are comfortable giving helps to keep the blog ad-free, pay for back end cost, research cost, supporting other POC efforts, etc. If your financial situation changes please make this one of the first things you turn-off — you can still access the same content and when/if you are able to re-subscribe we'll appreciate it.
Abby, Adrienne, Agent OO1, Aimie, Alessandra P., Alessandra Z., Ali, Aline, Alison, Allison, Amber, Amira, Amy H., Amy P., Amy R., Andrea, Angelica, Angie, Avery, Barb, Barrett, Beth, Betsy, Brad, Brian, Brooke B., Brooke C., Brooke D.W., Cadence, Caitlin, Calandra, Cari, Carmen, Carolyn C., Carolyn M., Carrie B., Carrie S., Catherine, Catherine L., Cedra, Celicia, Chandra, Chelsea, Clara, Clark, Claudia, claudia, Colleen, Colleen, Crystal, Dan, Daniel, Danielle, Danya, Darcy, Darcy E., David, Dawnnesha, Deb, Debbie, Deidra, Denyse, Diana, Dick, Don, E M., Ed, Edith, Elizabeth, emily, Erica L., Erica R.B., Erin, Evan, Francis, Hannah L., Hayden, Heather H.x2, Heather M., Heidi, Heidi H., Heidi N. and Laura P., Heidi S., Hilary B.A., Ivy, J Elizabeth, Jackie, Jacqueline, Jady, Jaime, Jake, Janet, Jean, Jeanne, Jen, Jena, Jenn, Jennet, Jennifer C., Jennifer M., Jennifer T., Jennifer W., Jessa, Jessica F, Jessica G. Jessica R., Jessie, Jillian, Jody, John, Jon G., Jon P., Jordan, Julia, Julia S., Karen, Kari, Kate, Kate C., Kate G., Kathryn A., Kathryn O.D., Katie, Katie O., Kawai, Keisha, Kelli, Kellie H., Kellie M., Kelly, Kimberly, Kirsten C., Kirsten W., Krista, Kristen D., Kristen R., Kristy, Kumar, Kyla, Laura B T., Laura G., Laurel, Lauren, Laurie B., Laurie K., Leah, Lisa C., Lisa P.W., Lisa S., Liz, Lori G., Lyn, Lynn, Maggie, Maka, Marc, Mark K., Mary Jo, Matias, Matthew, Matthew M., matthew w., Maura, McKenzie, Megan, Melissa, Meredith, Michael, Michelle, Mickey, Mickey L., Migee, Mikaela, Mike Q., Milo, Miranda W., Misha, Molly, Myrna, Nancy, Nat, Natasha, Natasha D., Nathan, Norah, Norrie, Peggy, PMM, Polly, Porsche, Rachel, Rachel S.R., Raquel, Raquel S., Rebecca, Rebecca S., Risa, Rise Up for Students, Ruby, Ruchika, Sarah, Sarah B., Sarah L., Sarah S., Sarita, Seam Ripper, Sean W., SEJE Consulting, Shannon, Shaun, Shawna, Shelby, Shelley, Sierra, Siobhan, Skyler, Steph, Stephanie, Stephen, Su, Susan C., Susan L.M., Susan U., Tana, Tania, Tania T.D., Tara, TerraCorps, Terri, Tracy, Vanessa, virginia, Vivian, Willow, Yoko, Yvette
If you subscribe to the blog, thank you. Please check fakequity.com for the most up to date version of the post. We often make grammatical and stylistic corrections after the first publishing which shows up in your inbox. Please subscribe, the sign-up box on the right sidebar (desktop version). To see what Erin is reading and recommended books check out the Fakequity Bookshop.